Boat excursions Sa Calobra - Torrent de Pareis
Boat from Sóller to Sa Calobra.
The majestic natural spectacle that the steep coast of the Sierra Tramontana offers you. UNESCO world heritage site.
Duration: + - 1 hour / journey.
Outward journey 10: 00h; 11:15h; 13: 00h; 15:00h Return journey: 13:45 ; 16: 30h
Departures daily from Puerto de Soller

To buy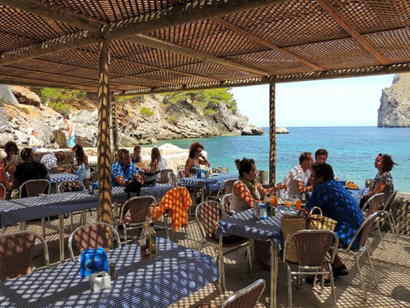 Pack: Sa Calobra and Paella
Boat from Sóller to Sa Calobra and there a paella in one of the restaurants of the bay.
Set off towards Torrent de Pareis, a UNESCO World Heritage Site, for a wonderful lunch.
Duration approx: +-1 hour per trip.
Including:return trip on the time you have chosen and meal in a restaurant of the zone.
Paella menu for adults mixed croquettes, fried squid rings, Mallorcan vegetable cake, paella, almond cake with vanilla ice cream, water or soft drink, or a glass of wine or beer.
Children's menu One plate of noodles or croquettes or pizza, ice cream, water or soft drink
*children under 5 have no option to buy online. ask at the box office
Departure: 10:00h; 11:15h; 13:00h Return: 13:45h; 16:45h
Daily departures from Puerto de Sóller.
To buy